Would you like a tool that predicts your student's ATAR score, subject scaling, and bonus marks using only your school's data?
Do you want to ensure that when those results appear in January there are no surprises?
ATAR Predictor is a purpose built web subscription that can do all of this and more for your school community. Read more below for how we do this.
How it works
Students select their subjects, and enter their average score, and then ATAR Predictor calculates the impact of exam performance, scaling and moderation, giving them an estimate of the final scaled score. The Tertiary Entrance Aggregate is then calculated from the top four subjects, including any bonus marks and finalised as an ATAR.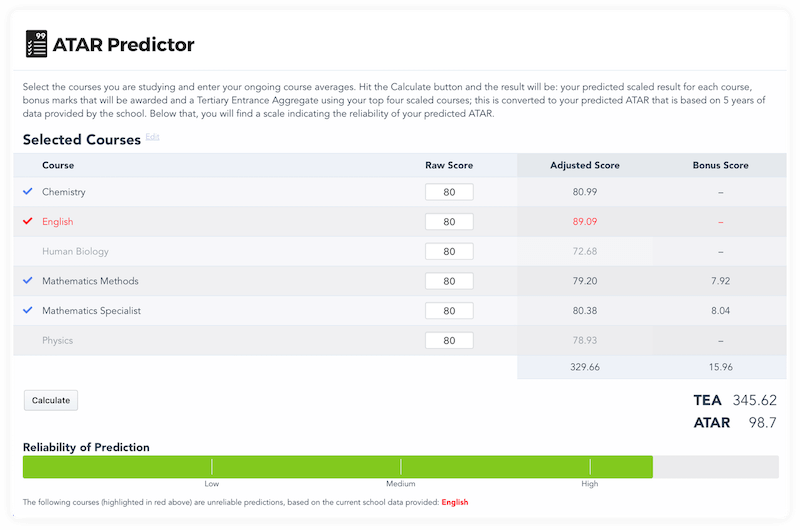 The ATAR Predictor can give students a realistic view of how they are currently performing, which in turn will motivate them to improve their study strategies to maximise their performance.
Why is it different
The ATAR Predictor is a tailor-made calculator for each school. It uses 5 years of your school's data, to predict your student's ATAR with a validated high degree of accuracy.
As we know, every subject performs differently in scaling due to exam performance, school moderation, and final scaling. We also know that these results often follow a trend. By having a calculator that uses your data to predict outcomes, you are able to inform students and parents with a more accurate prediction.
State-wide data is no indication of how your school is going to perform under scaling.
Pricing
In the first year the team takes the last 5 years of data from your school and evaluate this to produce the base line figures specific to your context. This is what makes the initial cost.
The yearly subscription includes technical setup of your specialist instance and authentication integration.
In addition to this in January/February each year we add your new school data and review the algorithms that are used for the new academic year to ensure that everything is as accurate as possible.
For more information about the product simply complete the form below.